January has flown by and I cannot believe we are already in the middle of February. Has anyone figured out how to stop time yet? February does bring some very intriguing titles from new authors. If y'all know anything about me, its that I love reading titles by new emerging authors.  So, let's get into the titles you will see reviewed the remainder of this month!
The Secretary by Renée Knight

To read my review: click here
Synopsis:
Renée Knight follows up her international sensation Disclaimer with this shivery tale of psychological suspense, featuring a character as disturbing and compelling as Mrs. Danvers in Daphne Du Maurier's Rebecca.
From her first day as Personal Assistant to the celebrated Mina Appleton, Christine Butcher understands what is expected of her. Absolute loyalty. Absolute discretion. For twenty years, Christine has been a most devoted servant, a silent witness to everything in Mina's life. So quiet, you would hardly know she is there.
Day after day, year after year, Christine has been there, invisible—watching, listening, absorbing all the secrets floating around her. Keeping them safe.
Christine is trusted. But those years of loyalty and discretion come with a high price. And eventually Christina will pay.
Yet, it would be a mistake to underestimate such a steadfast woman. Because as everyone is about to discover, there's a dangerous line between obedience and obsession.
Published February 12th 2019 by Harper
An Anonymous Girl by Greer Hendricks & Sarah Pekkanen
To read my review: click here
Synopsis: Seeking women ages 18–32 to participate in a study on ethics and morality. Generous compensation. Anonymity guaranteed.
When Jessica Farris signs up for a psychology study conducted by the mysterious Dr. Shields, she thinks all she'll have to do is answer a few questions, collect her money, and leave.
Question #1: Could you tell a lie without feeling guilt?
But as the questions grow more and more intense and invasive and the sessions become outings where Jess is told what to wear and how to act, she begins to feel as though Dr. Shields may know what she's thinking… and what she's hiding.
Question #2: Have you ever deeply hurt someone you care about?
As Jess's paranoia grows, it becomes clear that she can no longer trust what in her life is real, and what is one of Dr. Shields' manipulative experiments. Caught in a web of deceit and jealousy, Jess quickly learns that some obsessions can be deadly.
Question #3: Should a punishment always fit the crime?
From the authors of the blockbuster bestseller The Wife Between Us comes an electrifying new novel about doubt, passion, and just how much you can trust someone.
Published January 8th 2019 by St. Martin's Press
The Silent Patient by Alex Michaelides
To read my review: click here
Synopsis:
Alicia Berenson's life is seemingly perfect. A famous painter married to an in-demand fashion photographer, she lives in a grand house with big windows overlooking a park in one of London's most desirable areas. One evening her husband Gabriel returns home late from a fashion shoot, and Alicia shoots him five times in the face, and then never speaks another word.
Alicia's refusal to talk, or give any kind of explanation, turns a domestic tragedy into something far grander, a mystery that captures the public imagination and casts Alicia into notoriety. The price of her art skyrockets, and she, the silent patient, is hidden away from the tabloids and spotlight at the Grove, a secure forensic unit in North London.
Theo Faber is a criminal psychotherapist who has waited a long time for the opportunity to work with Alicia. His determination to get her to talk and unravel the mystery of why she shot her husband takes him down a twisting path into his own motivations—a search for the truth that threatens to consume him….
Published February 5th 2019 by Celadon Books
The Winter Sister by Megan Collins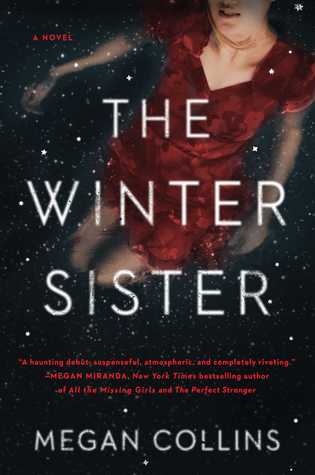 Synopsis: Sixteen years ago, Sylvie's sister Persephone never came home. Out too late with the boyfriend she was forbidden to see, Persephone was missing for three days before her body was found—and years later, her murder remains unsolved.
In the present day, Sylvie returns home to care for her estranged mother, Annie, as she undergoes treatment for cancer. Prone to unexplained "Dark Days" even before Persephone's death, Annie's once-close bond with Sylvie dissolved in the weeks after their loss, making for an uncomfortable reunion all these years later. Worse, Persephone's former boyfriend, Ben, is now a nurse at the cancer center where Annie is being treated. Sylvie's always believed Ben was responsible for the murder—but she carries her own guilt about that night, guilt that traps her in the past while the world goes on around her.
As she navigates the complicated relationship with her mother, Sylvie begins to uncover the secrets that fill their house—and what really happened the night Persephone died. As it turns out, the truth really will set you free, once you can bear to look at it.
The Winter Sister is a mesmerizing portrayal of the complex bond between sisters, between mothers and daughters alike, and forces us to ask ourselves—how well do we really know the people we love most?
Published February 5th 2019 by Touchstone
There you have it, February's reads …not including those already read/reviewed because I'm a bit late in posting this! Shout out and a very, very large thank you to the publishers that have gifted me a copy of the books above!